South Dakota Agriculture in the Classroom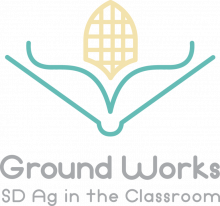 Headquartered in Sioux Falls, SD Agriculture in the Classroom (SDAITC) is coordinated by the 501c(3) nonprofit, Ground Works – South Dakota Agriculture in the Classroom. The goal of SDAITC is to inspire students to become agriculture literate consumers and leaders as adults. SDAITC education is guided by six values:
To follow STEAM (Science, Technology, Engineering, Arts, and Math) principles
To fulfill South Dakota education standards
To enhance agriculture literacy
To honor South Dakota production agriculture and agribusiness
To promote careers in South Dakota agriculture industry
To empower students to become agriculture literate consumers and leaders
Tour SD!: Exploring SD's Agriculture and History
The Tour SD! curriculum is a fun and educational way for fourth grade students to learn about South Dakota history and South Dakota agriculture. Students take a virtual tour of the state, visiting 23 towns each year. State and local history and the basics of agriculture are covered through lessons, games, and hands on activities. All content is based on South Dakota education standards as well as the National Agriculture Literacy Outcomes. The program is available for public and private schools, as well as other organizations that provide educational services and programs. The program is offered free of charge through  partnerships with state and local organizations.
The Tour SD! curriculum incorporates a creative approach to learning about the agricultural foundation and history of our state. Agriculture and history activities are linked to the town's name or history. For example: In Lemmon, students learn about beef cattle and cattle brands. In Mitchell, students learn about corn and the Corn Palace.
Features of the Tour SD: Exploring SD's History and Agriculture program include:
A "Tour SD!" website that includes interactive grade 4 lesson plans, games, and activities.
Designed for cross-curricular delivery. Activities include standards-based STEM (science, technology, engineering, and math), English language arts, social studies, and school counseling (careers) content.
Content is based on the National Agriculture Literacy Outcomes which sets the framework for student agriculture education in grades K-12.
Program content is organized in a workbook/Travel Guide format with separate pages for individual South Dakota towns. Topics are reinforced by lessons, games, and activities.
Interactive history and agriculture ticket activities provide hands-on learning opportunities for students.
An "Ag Weekly" blog provides information on current events and topics in South Dakota.
An online journal provides for research and writing activities on agriculture and history topics.
An interactive map features agriculture articles, videos, and career information.
An interactive timeline and sequencing feature allows for student creation of timelines, as well as outlining steps in a process – such as the steps in the Farm to Table process.
Town and state history and agriculture themes/topics drive the content for the individual town 'visits' and activities.
Newsletters provide program updates.
Professional development includes email, onsite, web-based, and conference presentations.
A Facebook page provides opportunities for networking and sharing of best practices.